Frequently Asked Questions
[By this we mean, "Questions that we think people would ask us if anyone ever asked us any questions about ourselves," but that doesn't make a good acronym.]
---
Q: What does Aeverling mean?
A: Always & everliving
---
Q: What's with the bowling shirts?
A: they were the only thing that was clean
---
Q: You didn't quit your day jobs, did you?
A: What are you trying to say?
---
Q: Where can I go to listen to Aeverling without having to travel anywhere, pay any money, or get off my couch?
---
Q: Are you guys on Facebook, YouTube, and Twitter?
A: How old do you think we are? We Facebook, we've been YouTube'd, and we Tweet.
---
Q: What about Pinterest, Snapchat, Instagram, Flickr,  Reddit, and Tumblr?
A: OK, yeah. We are that old.
---
Q: Some of your instruments are weird. What are they?
A: In addition to her beloved Martin guitar, Juanita also plays a standard A-Style Ibanez mandolin and a Gold Tone "manjo" (a banjo with a mandolin tuning). Gary plays his gorgeous Petros guitar as well as a Deering Goodtime 5-string banjo, a Gretsch Resonator guitar, and a "bantar" (a 6-string banjo with guitar tuning). Lorinda loves her Larrivee guitar as much as her Collings guitar. She also plays the harmonica.
---
Q: Isn't that a lot of instruments to lug around?
A: Yes.
---
Q: Did you guys really get matching tattoos? Really?
A: Yes, we really, really did.
Before: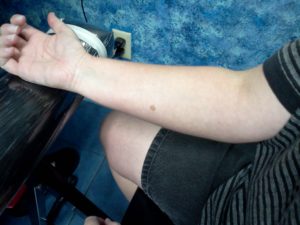 After: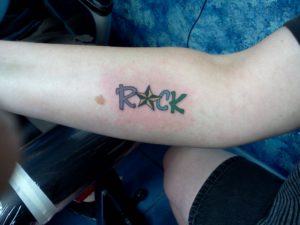 Bonus Answer: Yes, we know it looks like it says, "RACK." Then we added an 'O' around the star, and now it says, "ROCK star."
---
All comments must be approved by the moderator (us) in an effort to control spam and so your comment may not appear immediately; please be patient. 🙂
---